Popular volunteer and club stalwart, Gerry Westmore, was recognised for his fine service to the club when he received the prestigious VAFA Certificate of Merit award.
Gerry was presented with the award at the 2021 VAFA Season Launch on Wednesday evening.
Gerry Westmore has had lengthy playing and support careers at University Blues Football Club and has been a tireless contributor to the club both on the field and off. Gerry played as a dour rover and whiley half forward over 14 seasons with the blues representing both the reserves and seniors.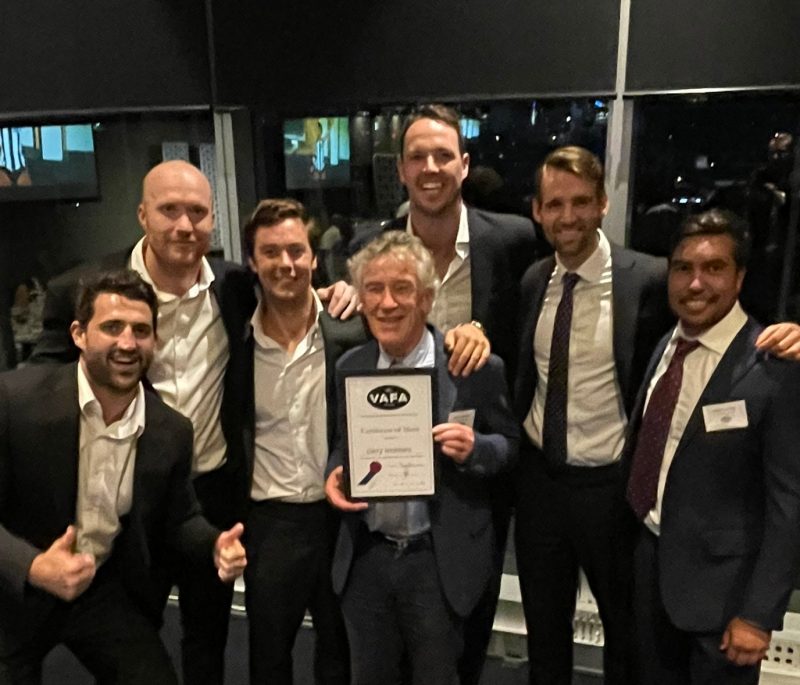 He was a favourite with his peers as a reliable player on the field and always up for a good time off the field. This has continued and is still a favourite with the current playing group. He's also on hand for some encouragement and a good chat.
After an absence from the club following his stellar playing career, Gerry returned to Uni Blues in 2004 and has performed in a variety of support roles including Reserves Team Manager, Reserves Boundary Umpire and Water-boy. Gerry is always a willing and tireless worker around the club from providing valuable game day input by running the boundary or water for the reserves, through to giving drinks (and advice) to the umpires at the breaks.
Gerry's game day involvement continues on during senior games and is often seen running water in the later games, after finishing his Reserves Team Manager duties, and finally operating the broom as part of our "clean-up crew" making sure the facilities, either home or away, are left in a respectable condition. No job is too big or too small for Westy… and nothing is a chore. All you have to do is ask. He attacks every task always with the best interests of the club at heart.
In 2008, Gerry's contribution to Uni Blues was recognised by being awarded the prestigious Chris Brown Memorial Award; Uni Blues highest accolade for non-playing personnel. Subsequently Gerry was recognised with Life Membership in 2013.
Gerry is also member of the illustrious Thursday evening Dinner Crew, providing meals to the full playing group and is currently one of the Club's COVID-19 Safety Officers.
Gerry was joined in the celebration by his wife, Penny, and a strong contingent of players and officials.
Gerry joins an elite crew of recipients of this award in Frank Henegan; Ted and Norma McNamara; Bob Girdwood; Steve Carroll; Yvonne Salter; Michael Robin; John Carmody; Tony McInerney and John Kanis.
Congratulations Westy, well deserved.