Football clubs often place a great deal of importance on what it means for an individual to epitomise what their club is about. To "represent" the jumper, at some places you have to be the best, or the hardest or the most passionate and vocal. At a lot of football clubs, usually it's the most talented recruits or hard-nosed 200 plus game back pockets who receive these accolades. But Uni Blues has never been an average football club. None of us would be part of it if it was.  And to epitomise what we are about isn't the same as at other football clubs.
To epitomise what we are about, is to epitomise the values that we as club hold dear. Our values are no better or more noble than those of other places, but they are different, because they are special to us.
They are values that have evolved and solidified over the course of more than 100 years of University Football. They have been shaped by thousands of young men and women who chose to make our club their own and, for their part, impress upon our club the very best parts of themselves. To epitomise Uni Blues culture and its values, is to epitomise the sum of all those great men and women and the collective values they have imparted over the years.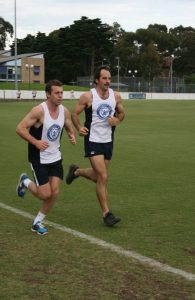 This week, Uni Blues lost a young man who did represent everything that is great about our football club. He represented everything that is great, period. Liam Quin epitomised what being a Uni Blues player is all about. He was kind, selfless, loyal, fiercely witty, and, as his long-time teammate Jackson Brooke puts it "had the most thoughtful, understated intelligence of anyone to ever come to Blues. A club-person of any Uni Blues era would have been honoured to call him a friend." Indeed, many recent generations of Uni Blues men and women did.
It's very easy to describe Liam Quin as the quintessential clubman.  That he was, both on the field and off it. Arriving at Uni Blues from Burramine South in the North-East of Victoria back in the early autumn of 1999, where other new young recruits would invariably be described using words such as "wiry", "fresh-faced" or "needing a summer or two in the gym", Liam Quin came built to play. If junior opponents weren't intimidated by a five o'clock shadow which even the most fearsome of country footballing hardmen would be jealous of, his solid frame and confident aura on the park signalled a tough day ahead for approaching backmen. Many a halfback would experience that same sinking feeling for a decade to come until Quinny's on-field career finished in 2013.  During those 14 years, Quinny's list of on-field feats included captaining the reserves and thirds over numerous seasons. He was part of the 2008 Club XVIII premiership side and the 2012 Thirds premiership side. Quinny is recorded as having played 199 games for Blues. But records of matches played by players only really became reliable in the mid-2000s. It's therefore probably safe to assume that accounting for minor clerical errors in the Uni Blues archives, Quinny easily reached the famous Uni Blues 200 game milestone and took up his place amongst only a handful of other club legends.
But the impact that Liam had on Uni Blues is more profound than can be articulated by merely listing his on-field achievements. As reliable as Liam was on the field, he was just as dependable off it. Indeed, to be held in the regard that Liam Quin is around Uni Blues, you have to be. An amazing conversationalist and a true wordsmith, as sharp or subtle as suited the occasion with the pen as he was with his tongue.  It was always a joy to read an article penned by Quinny of which there were countless produced during his dedicated time as official Uni Blues scribe and many after. He had that rare ability to make you literally laugh out loud when reading his well thought out and crafted prose such was his nuanced skill and mastery of written story telling.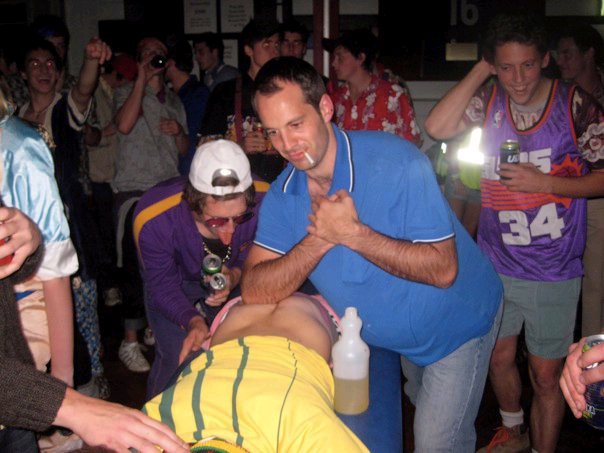 Behind the scenes, no job was too small or too banal.  Quinny helped out around the club not for recognition or to win favour with anyone, but because something needed doing. If the bar needed manning when the punters were four deep after a famous Blues victory at Uni Main, Quinny would step up. If the Pavvy needed a hosing down after a raucous Saturday night's festivity, Quinny would often be the last one there putting empty VB cans in the bin with his bear-sized mitts and helping Bobby Girdwood clean the place up. More importantly, these qualities carried over to Liam's life outside of the Blues. He was genuine, thoughtful and supportive, and always made time to have a chat with anyone who approached him. He had a devastatingly quick wit and the social intelligence and compassion to know when and when not to use it. The consummate entertainer and prankster, observant teammates would on occasion catch a mischievous glint in Liam's eye as he prepared himself for what was sure to be another riotously funny prank. Sadly, for the unwitting victim of his prank, by that stage it was usually already too late. Quinny's jokes were always executed as clinically as his set shots from inside the arc of the Uni Main.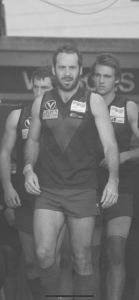 Having spent many seasons down at the club with his good friend Liam, former Uni Blues captain Andrew Lowcock perfectly sums up how Quinny's importance to the fabric of the club extended far beyond his clear abilities on the field. "His kind, welcoming nature was immediately disarming, and provided many a new face at the Blues with a strong sense of community." Quinny's stewardship of a sense of community at the club was recognised in 2011 when he received arguably the club's highest accolade, the Ted McNamara Award for the player that best reflects the spirit of the Blues. None would have disputed that it was probably long overdue.
One thing that Liam appreciated more than most was that football is just a game we play to facilitate a much more important aspect of life at our club, building life-long friendships with the great people that this club attracts. Though he was probably too modest to ever acknowledge it, in his time at the club Liam likely had more friends than any player there. He was loved and revered by all who came through the change room doors. In the words of teammate and friend Tom Hutchins, "Quinny was the guy that everyone could relate to, young or old, new to the club or a veteran. He would always find a way to connect with you and was the most engaging of conversationalists."
It was this ability to listen to others and connect that made Quinny the glue of Uni Blues. Fresh from a couple of hours leading a group of young reserves boys on the park, you would often find Quinny in the Pavvy afterwards extending their Uni Blues footballing education by telling them about the social faux pas to avoid around the club or the strategic importance of helping to set up afternoon tea thus guaranteeing you a sneaky first pick of the delightful treats on offer.  While he would never have admitted this himself, he was the best kind of leader. The kind of leader that didn't demand that you listen to him or bark orders at you, but acted with conviction and just went and did what was right or what needed to be done, leaving you with a choice as to whether to follow or not. Such was the level of regard in which Quinny was held around the club, he seldom found himself alone.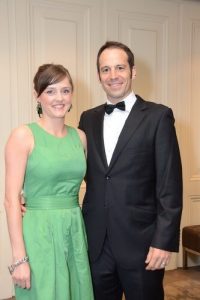 But Quinny's greatest friends, and the people that he loved and was loved by the most, were his family. Quinny and his wife Bec met at Carlton Baths, where they both worked casual jobs, in the summer of 2002/2003.  Together with Liam, Bec became a much-loved regular face at Uni Blues over the years. One thing that many people have mentioned is how both Bec and Liam always made an effort to welcome new people to the club, taking time to introduce new parents and partners to the broader Blues family and instantly making them feel at home. Together, Liam and Bec built a beautiful family of their own and have three children together Balthazar, Anahita and Beatrix.  As a club, Uni Blues would like to pass on our most sincere condolences to Bec and Liam's family at this time; the Blues community will help and support you in any way we can.
On Saturday, under blue skies and a different kind of five o'clock shadow, namely that of the Ormond clock tower, Uni Blues and a strong home crowd remembered Liam Quin on and off the field. On the field, the Blues did as they had done countless times before in the years Liam played, and recorded a win when they needed it most. Off the field, under the roof of a Pavillion which has seen quite a few structural upgrades and additional licks of paint since Quinny first came to the club in 1999, past teammates gathered and reminisced about stories of a man whose understated wit and self-effacing style of humour entertained them for over a decade. Quinny, for all his many wonderful qualities, was a born story teller. He had an ability to find details which escaped the eyes and ears of most and bring them to the light in a manner which was as thoughtfully observant as it was hilarious, a style which was unquestionably unique to him. And while it's doubtful any of those in the Pavvy on Saturday afternoon rivalled Quinny in terms of oratory prowess, they honoured him in the most fitting way possible, by telling stories with honesty, sincerity and free-fire humour.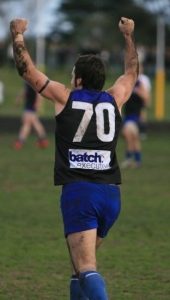 And it is in keeping with that trait of uncompromising honesty with which Quinny conversed and connected with his many friends around Blues, that we should not fail to acknowledge the battle that he fought in recent years. Liam suffered from depression. It was a battle that ended up costing him his life. While here is not the time or the place to delve too deeply into what he went through or the myriad of complexities associated with mental health, whatever Quinny went through, such was his compassion and love for his friends that we can say with confidence that he would not want anyone else to go through it. So if anyone out there in the Blues community is dealing with stress, depression, anxiety or mental health issues, please reach out to one of the many understanding sets of ears that you have at this club. We are here for each other.
There are few words that can be said about how we as a Uni Blues community are feeling knowing that Liam is gone. We are all of us, better people for having had him in our lives. Whenever he was around the club, his presence made an already great place, that little bit more special. Of the many beautiful quotes provided during the development of this tribute to Liam, one stands out. It sums up the sort of person Liam was with such perfect simplicity, that little more needs to be said. In the words of Thirds premiership captain, Tom Granleese:
"If I was to sum up Quinny, he was the sort of bloke who, at 8:30pm after training, and even though he lived 2 minutes away and had ridden his bike to training, would wait at the tram stop with you for 20 minutes for a chat until your tram came… a better fellow you would not find."
So here's to Liam Quin. Loving father and husband, loyal friend, 200 gamer, club icon and an all-round exceptional character taken from us far too soon. We will never forget the joy that you brought to all of our lives over the years and we will miss you forever.

Vale Quinny.

A service to celebrate the life of Liam Quin will be held at the Ernie Cropley Pavilion, Melbourne University Main Oval on Sunday 9th September at 2pm.