Its common knowledge that Uni Blues Thirds team struggles for players during the University midyear holidays when many students return home to the bush and interstate. The "call to arms" last Saturday brought some notable former stars temporarily out of retirement, including Andrew Lowcock, Mark "General" Paterson and James Vandepol.
However there was also one very special inclusion all the way from Alice Springs. Dave Thomas, who was a close friend of former Blues favourite son Liam Quin when he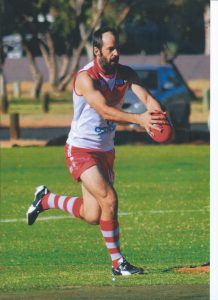 moved to Alice Springs, also took the field for Blues Thirds and gave the team great drive from half back.
Dave had been corresponding with the club for some time prior to his trip to Melbourne, and wore Liam's famous no 70 jumper for his guest appearance.
Dave was also kind enough to give the club the photo attached of Liam in Federals kit, and some Federals shirts for Liam's friends. His heartfelt address to players and supporters in the pavvy post match will be remembered for a long time by all present, but especially those of us who were close to Liam during his long career with Blues.
Everyone at Blues thanks Dave and his beautiful young family for their support of our club during their short stay down South, and we look forward to making contact again in Alice when we're passing through.