This week Paddy Hayes becomes only the 10th player in Uni Blues history to play 200 games.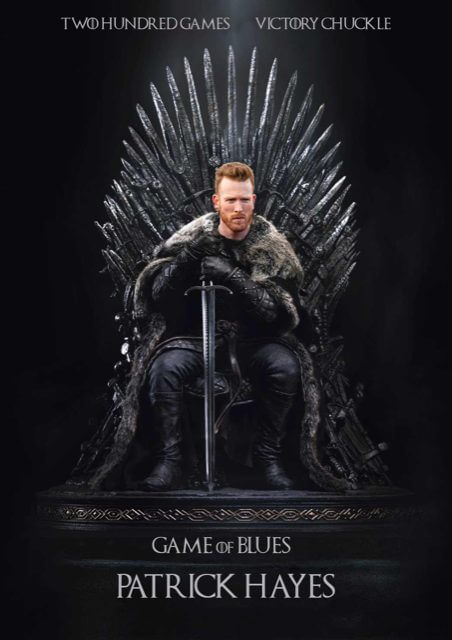 After playing hockey throughout his younger days, Paddy switched to footy and came to Blues via Calder Cannons and Collingwood VFL in 2009, immediately impressing with his blistering speedand athleticism. His early years at Blues were a mixture of brilliant games and multiple injuries, mainly hamstring and shoulder. After a couple of shoulder reconstructions, Paddy rebuilt his body and has become our most reliable and consistent player of the last decade.
Paddy has played just about everywhere for Blues. Originally a pacy wingman, he lined up in the 2014 B Grade Grand Final at centre half forward before moving to the backline in the last few years. Nowadays he may not have the blistering pace, but his discipline and ability to lock down the opposition key forward ensures that he remains a valuable member of the team.
As well as being only the 10th player to play 200, Paddy is 4th on the list of senior games with tomorrow being number 186. A member of both the 2014 B Grade and 2019 Premier grade premiership teams, Paddy is one of only six Blues players to have played in two senior premierships. Remarkably, he played all 20 games in both premiership seasons.
But it is off the field that Paddy has had the greatest impact on the club. He is everything you want in a clubman – reliable, hard working, friendly, honest, always a positive influence around the club. Paddy has a friendly greeting for every single person in the change rooms every training night and has mentored numerous young players over the years.
Not only have the Blues benefited from Paddy's contribution on and off the field, but we have had the privilege of having his parents Jim and Mary heavily involved in the club. Jim is there every training night handing out the water bottles and on match day goal umpiring or time keeping for the Ressies, or one of the numerous other tasks he undertakes. Jim's contribution to the cub was recognised last year when he was awarded the Blues' highest honour the Chris Brown Trophy.
Along with his lovely wife Bec and gorgeous baby Madeline, they will righty look on with pride when Paddy runs out in a Blues jumper for the 200th time against St Kevins tomorrow.
Congrats Paddy.