One thing we are very proud of at Uni Blues is the quality of our medical team. We have senior practitioners mentoring younger physios and docs and helping them on the way to careers in sports medicine. This week past and present members of the team have been kicking goals themselves.
Physios Mick Girdwood and Zuzana Machotka were this week both awarded NHMRC postgraduate scholarships enabling them to pursue PhDs at the LaTrobe Sport and Exercise Medicine Research Centre. That will keep them busy for the next 3 or 4 years.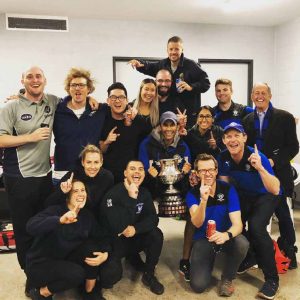 Two of our recent docs, James Ooi and Mark Wilson, have won highly sought after positions in the national Sports Physician training program to allow them to train as sports physicians. They join other recent Blues docs, Jacob Jewson, Liam West and Carlee van Dyk, on the specialist training program.
Many other former Blues doctors and physios are in full time careers with elite sporting teams around the country.
Four of the ten Victorian AFL clubs have former Blues people as Head of their medical teams –  former players Drew Slimmon (Geelong), Greg Hickey (Richmond) and Peter Baquie (North) as well as our 2004 premiership doctor Ruben Branson (Collingwood). Other docs at AFL clubs include Geoff Allen (Geelong), Liam West (Hawthorn) and Brukie who is back at Melbourne in a consultant role.
Our ability to out our best team on the field most weeks this season was a major factor in the 2019 Premiership and full credit goes to Keith, Richie, Gunga and the rest of the medical team.