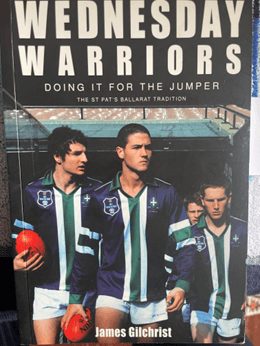 This Saturday against Old Xaverians Marc James becomes only the 33rd Blues player to play 150 games for the Blues.
Marc had a stellar schoolboy football career at St Pats Ballarat where he was captain and won the B&F in 2009. That team was featured in the book Wednesday Warriors where Jamesy was described as "stamping himself on every game with his physical presence and verbal authority, setting up zones, cajoling and encouraging team mates, and driving himself to exhaustion" and "above all James seems to be a young man of great self-discipline with the qualities of a natural leader, one who inspires others through his masculine persona and in field presence.
Jamesy played a couple of games in the Blues Ressies in 2012 and his first senior game the following year. In 2014 Jamesy was a key member of the B Grade premiership team playing 19 games and lining up alongside Paddy Hayes at half forward in the Grand Final.
Jamesy has been a regular member of our senior team ever since and has played a total of 130 senior games and 20 reserves games.
After being left out of the side for the Second Semi Final in 2019, Coach Heath Jamieson brought Jamesy back into the team for the grand final wanting his hardness, discipline and ability to shut down key members of the opposition. And he delivered!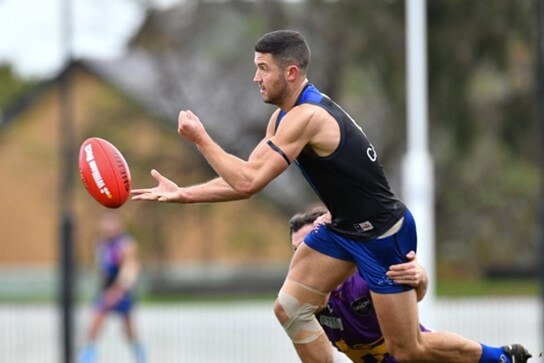 Jamesy has never been regarded as the best kick in the team yet has managed to kick 86 goals in his Blues career including a career high-equalling 5 goals last week. Maybe his kicking is not as bad as we all think.
As they said about him at St Pats, Jamesy has always been a leader of our club both on and off the ground and hopefully will continue to be so for a few more years yet. One could mount a good case to say that 2022 has been his best season ever at Blues.
Marc is one of only six Blues players in history of the club to have played in two senior premierships in 2014 and 2019, and joins an illustrious group of Ross Young, Matt Torney, Marshall Rippon, Jeremy Mugavin and Paddy Hayes.
Well done Jamesy.