Now that we are starting to exit the 2020 COVID-19 lockdown season, we are starting to plan for the new "COVID Normal" particularly with regard to the 2021 footy season.
As such, it is with great disappointment that we announce that Heath Jamieson will be stepping down from his position as Senior Coach.
Heath originally signed on for two years in 2019 and took us to the top of the mountain and we were preparing an assault on back-to-back flags when COVID hit, and all footy was put on hold. The intention behind the two year commitment was both football and family based and now it's time for the family part of the commitment to take precedence.
The following is an extract from the message from Heath to the playing group…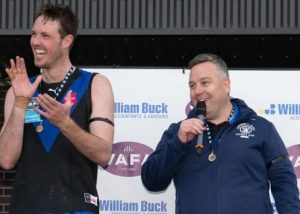 Originally I signed for two years at Uni Blues as Jen, myself and the kids were going to move to Brisbane after this season. Obviously this year hasn't worked the way I would have liked but my commitment to family has to be greater than any other commitment so we are going to go.  
I am filthy in the current environment that I need to communicate with you like this as I'd love to catch up and do it as a group but we know that can't happen.  
We have the right people in charge at Uni Blues to find the suitable replacement to continue all the hard work we have done. 
I can't thank everyone enough for the input you've given me in my short time at the club.
The club thanks Heath for his help in securing the elusive flag and "changing the conversation". We have all learnt a lot from him. We thank him and wish him, Jen and the family all health in happiness in sunny Queensland.
We now turn our attention to finding a suitable replacement and to that end, we have again cast our net far and wide and will be using a very similar approach to that which saw us land Heath two years back. Hopefully the results will be equally as rewarding.
Watch this space for news of our new senior coach for 2021 and more details of our premiership defence.