The University Blues Football Club is delighted to announce the appointment of Heath Jamieson as the Senior Coach.
Heath has successfully coached St Joseph's in the Geelong Football League for the past 6 season (since 2013), which included three premierships including the 2018 premiership.
Prior to his time at Joey's, Heath also coached Queenscliff to the 2011 drought-breaking premiership. Queenscliff went on to win the following 2 premierships, ratifying Heath's mantra in 'leaving the club in a better place then when he arrived'.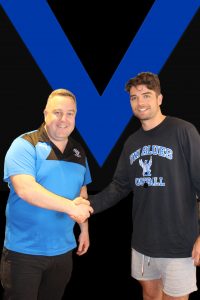 Heath is very "club-centric" focused and is determined to take the whole club forward. Heath is known for building values and a positive culture and club, which was a very important criteria in his selection.
Uni Blues welcomes Heath, his wife Jen and their children; Jake, Aimee, Max, Cooper and Noah to the club and the broader VAFA community.
Heath's appointment, follows the resignation of James Walker after a two year term as Senior Coach and a 5 year stint on the senior coaching panel. James has done a fabulous job in leading, developing and improving our club.  We thank Nicole and James for their contribution and we look forward to having them both on the sidelines supporting the blues