The 2018 season came to a spectacular climax on Friday evening at the Citipower Centre, Junction Oval with Ayce Cordy taking out the C.W McLoed cup for the Best and Fairest in the seniors for 2018. This win follows hot on the heels of his win in the VAFA Woodrow Medal for the best player in VAFA Premier Grade.
Ayce won a thrilling vote count polling 192 votes to win by 29 votes from Jeremy Taylor in second place on 161.  Both players polled in 14 of the 18 rounds with Ayce securing votes in round 18 to ensure the victory.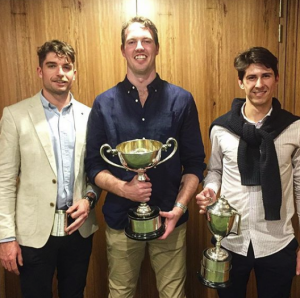 Early runaway leader, Ryan Eade finished third on 133, with Connor Lappin (125)  and Paddy Hayes (110) rounding out the top five finishers. Perennial vote winning, Ross Young, finished next on 95 after a season marred by injury.
In accepting the award, Ayce thanked the coaches for their guidance and support, and thanked the players for the way they welcomed him into the club.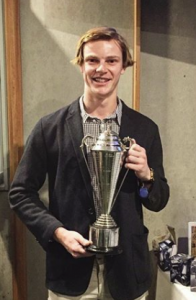 The prestigious Chris Brown Award for the best clubman was taken out by Pete Summers for his great behind the scenes work around the club, whilst Damien Barton took out the Ted McNamara award for the player who best represents the spirit of the Blues.
In other results, Sean Carr took out the Reserves Best and fairest by polling enough votes early in the season before gaining a regular spot in the ones, by one vote from MacKenzie Mayne.
In the Under 19s, Jack Humprey and Sam Allen tied for the A.F. Jolley Trophy ahead of Ned Lanyon and Travis Scotland
The Best and Fairest for the Thirds was taken out by Jared Crawford and Jesse Frost who tied for the award.
The full list of trophies follows below:
Senior Best & Fairest (C.W. McLoed Trophy)       Ayce Cordy
Runner Up Best & Fairest (Seniors)                        Jeremy Taylor
Best First Year Player                                                 Tom Hotchin and Sam Hodge
Alan Salter Coach's Award                                        Piers Flanagan
Jack Coventry Coach's Award                                   Connor Lappin
Reserves Best & Fairest                                              Sean Carr
Runner Up Best and Fairest (Reserves)                 MacKenzie Mayne
Reserves Coach's Award                                            Tom Loone and Will Loone
Under 19s Best & Fairest (A.F. Jolley Trophy)      Sam Allen and Jack Humphrey
Coach's Award                                                              Charlie Curran
Thirds Best & Fairest                                                  Jared Crawford and Jesse Frost
Thirds Coach's Award                                                 Sam Gill and Matthew Brown
Chris Brown Award (Best Clubman)                       Peter Summers
Best Team Player (Ted McNamara Award)           Damien Barton