BEN'S MUFC CONNECTION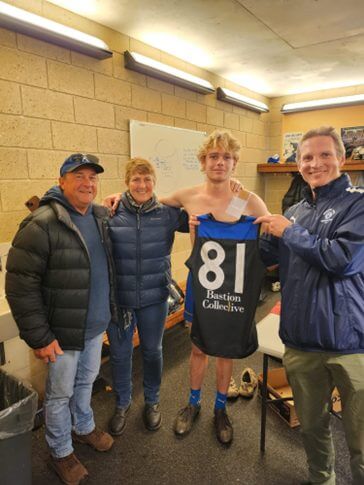 When your son is selected to play his first senior game, it is always a special occasion, but when Ben Townson played his first Senior game for Uni Blues on Saturday and ws presented with his jumper by Club President Andrew Lowcock, it was even more special than usual for Ben's mum Lucy. Lucy's great uncle (her grandmother's brother), Dick Gibbs played 35 games for University in the VFL from 1912 to 1914 before being tragically killed during World War 1.
Richard Horace Maconochie Gibbs (or Dick as he was known) was born in Warracknabeal on February 4, 1893. The family moved to Colac where his father, also Richard Gibbs, was a doctor.
Dick was educated at Colac Grammar School and at Caulfield Grammar where, in addition to football, he represented the school in both long jump and 440 yards in the team that won the 1911 Schools Amateur Athletic Association's sports meeting and in swimming. He then commenced his medical studies at Melbourne University in 1912 and joined the University football club which had joined the VFL in 1908.
Dick played 35 games for the University First XVIII in the VFL competition over three seasons (1912-1914). He played well in his first match, Round 1 against Essendon, on 27 April 1912 with the reporter remarking that, "although yet only a boy, he marked and kicked so well that he gives great promise".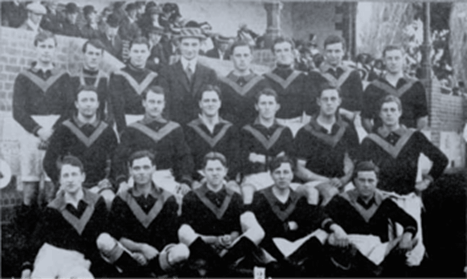 Dick also played Inter-Varsity football for the University of Melbourne and was awarded a full blue for football.  
Melbourne University's team for the annual (inter-varsity) football match against Adelaide University, played in Adelaide on 12 August 1914 (Gibbs is at far right of back row).
His last game, against Richmond, was in round 14, 1914, two weeks before Australia declared war on Germany. The University team withdrew from the VFL competition prior to the 1915 season; and, having been given a clearance to transfer from University to Melbourne, Dick tried out with Melbourne in the pre-season of 1915. However, his enlistment meant that he was unable to play with Melbourne.
He enlisted in the First AIF in May 1915 and on June 1 1916, Second Lieutenant R. H. M. Gibbs was promoted to Lieutenant.
Dick Gibbs was killed on 19 July 1916, in his first clash with the enemy. He was posthumously awarded the Military Cross, "for conspicuous gallantry in action", when leading his troops over a parapet, despite heavy German gunfire:
"At Petillon on the 19th/20th July 1916, when his Company Commander was seriously wounded immediately prior to the order to charge Lieut. Gibbs took charge and led his men over the parapet. By his example the men were spurred on, and although advancing under a galling machine gun and rifle fire he kept his men moving steadily forward in perfect line and order. Lieut. Gibb's calm and collected manner gave his men the impulse necessary to carry them as far as it was possible to go."
Dick was one of almost 2000 Australians killed in the battle of Fromelles in 1916, during the most disastrous 24 hours in Australian military history.
His bravery in the face of a German onslaught was unfathomable, but the story goes deeper as the Gibbs family lost two brothers and their father within the space of three years.
Gibbs' brother, Jack, had served in Egypt and Gallipoli. He took ill on the Peninsula and was evacuated back to Egypt. As part of his recovery, he was sent to England to work with the Army Pay Corps, but caught a severe cold in the first month of 1917. Soon after, he was diagnosed with pulmonary tuberculosis. He would return to Australia, but died in October that year.
Richard and his wife, Helen, had lost a second son. At least this time they could provide a proper burial. Not long after, Richard – who gave up general practice to help returned servicemen as a tribute to his sons – was killed after he fell from a cable car in St Kilda.
In the space of two years, the Gibbs family had lost a father and two sons, one of them a Military Cross winner who had played League football.
Dick was one of 19 University AFL players who made the ultimate sacrifice in World War 1
Lest we forget.