The University Blues Football Club is thrilled to announce the appointment of Steve Grace as our Senior Coach for 2021.
Steve has a wealth of football and secondary teaching experience which he will bring with him to the University Blues. Steve is currently teaching at De La Salle College and has previously taught at Brighton Grammar and CBC St Kilda as the Director of Physical Education and Health. Steve is degree qualified in physical education, sociology and sports management. He has a strong focus on authenticity, development and positive leadership.
Steve's rich football pedigree includes:
• Western Bulldogs FC – senior midfield coach (2019) and VFL head coach (2017-18)
• Collingwood FC – offence and forwards coach (2014-16)
• Fremantle FC – development coach (2011-13)
• Oakleigh Chargers FC (TAC Cup) – head coach (2009-10)
• Sandringham FC – senior assistant coach, midfield coach and reserves coach (2004-07)
• Ormond Amateur FC – senior playing coach (1998-2000)
• Phillip Island FC – senior playing coach (1996)
Steve is no stranger to success in the VAFA as a two-time A grade premiership player at Ormond Amateurs and has a deep appreciation of the culture and sense of community in amateur football.
Steve would like to share his thoughts with the Uni Blues Community on his appointment: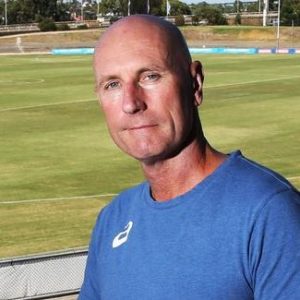 "I'm grateful for the opportunity that the University Blues Committee has given me in leading Uni Blues into the next few seasons. With recent on field success and prosperous off-field organisation, the club has positioned itself to be a driving force in the VAFA.
The enormous amount of work and passion that drives a historically significant and currently successful Premier Club is not lost on me. My previous amateur playing and coaching background allows me to understand the positive impact that Uni Blues have had on the VAFA and the wider Melbourne University community.
Hopefully what I have learned and experienced in AFL and VFL coaching over the past 9 years will help drive and inspire what is a hungry group of talented players to achieve more than they may think possible." – Steve Grace
Steve's appointment follows the departure of reigning premiership coach Heath Jamieson, as he heads north with his family to pursue his career and an escape from Stage 4 restrictions. We cannot thank Heath enough for his unforgettable and priceless contribution to our club. Jamo, you have left a great legacy and many incredible memories. All the best in sunny Queensland and we would love to see you back in The Pavvy in the future.
Go Blues!